New Start Packs, Swag Packs,
Onboarding Packs, Reward Packs, Gift Packs… We do Packs!
Whether it be in-house or remotely, the first day in a new company is often pretty nerve-racking. First impressions count, as the saying goes, so you may as well do everything you can to make a good impression on your new recruits when they arrive!   Well-planned starter pack for new employees with added extras is theanswer to a successful induction and happy employee. Happy employees mean proud employees who aren't afraid to shout about it.
The simplest things are sometimes the best: share your values and business culture with branded welcome packs for your new employees.  Here we cover welcome packs along with new starter employee packs and onboarding packs.
with long lasting products
that won't end up in landfill.
Choose from our curated range of starter pack for new employees containing sustainable merchandise. Whether you're looking for corporate gifts or to break in your employees with new onboarding packs, we've got you covered. We can store your boxes and distribute them when new team members join.  Collaborate with us and we will help you to determine how many boxes you need, set your budget and find the best deals for your branded swag.  If you need help with design we have a full design team that will be happy to help create something totally unique
GIVE US THE LOWDOWN
Let us know your promotional product or budget requirements and what you're trying to achieve.

LET US DO THE LEG WORK FOR YOU
We'll manage everything from the artwork, design and layout to sourcing, production and fulfillment.
TICK IT OFF YOUR TO-DO LIST
Bask in the triumph & adulation of a job well done, knowing your promotional products are in safe hands.
Let's Start Something New

Say Hello!
Send us a few details about how we can help you and any questions you have. One of our team will get in touch with a no obligation quote along with a smorgasbord of merchansdise inspiration and branded visuals.
Alternatively, why not book a consultation with our team by selecting a time and date that suits you.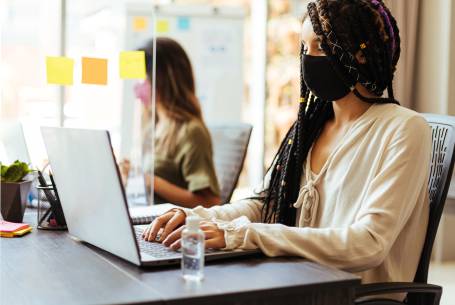 Overall, we all want happy, relaxed staff and putting the above measures in place will all help.  However, on a more personal level, providing welcome packs can create a really positive feeling of value amongst employees.  Little (or big) gifts that demonstrate your commitment to and importance that you place on your staff will live long in their minds.  Fun or functional or both, these new employee packs give an opportunity to connect with your teams.  Your gifts could be sent out in advance or be ready and waiting on desks on the first day back.  These return to work gift packs can be based around PPE, more personal products and treats or a mixture of both.  Whatever goodies you choose, they're sure to be gratefully received. 
What To Put In Your
Welcome Packs  
The world is your oyster when it comes to the choices for your return to work gift packs.  There are some obvious essentials, such as face masks, hand sanitisers, safety hooks and antibacterial wipes all of which can be branded to suit your company.  Beyond  these choose from a plethora of branded merch to excite and energise your teams.  Our most popular promotional products include; customised notebooks and pens; water bottles; travel mugs; tote bags; polo shirts and fleeces; speakers; headphones; games and treats and snacks.  Moreover, all of these goodies can be branded with your logo and we can offer eco friendly merchandise options for any and all our products. 
Knowing how busy you will be right now, let us manage the whole process for you; from selecting suitable products for your consideration, designing and visual creation to fulfilment and posting (including national and international individual mailouts), we will do it all.  Let's all hit the ground running and get a bit of normality back!
Welcome Employees
Back To Work
The next phase in returning the country to work and life demands us all to be thoughtful, considerate and conscientious.  Every business will experience different challenges in reopening or expanding their current operations.  Preparing workspaces for employees to return to, ensuring compliance with government guidelines and managing the needs of employees will not be easy.  Once safety measures are in place, communication and flexibility will be key in ensuring employees are ready and keen to jump back in.  Additionally, we need to ensure that staff feel listened to and their fears understood and managed as well as possible.  Creating a more flexible working day may also alleviate concerns people may have about travelling at peak times or being surrounded by crowds.
For many companies it will be a phased return, with some staff returning sooner than others.  Importantly, this needs managing, as those still working from home may start to feel more isolated from day-to-day happenings.  Ways will need to be found to integrate them into office life and keep them connected. Check out our working from home essentials or our working from home gift packs.