Staff Onboarding
& Personal Development
Whether you are onboarding new employees, engaging in personal development, trying to foster great morale or looking to improve productivity, ensuring your staff have everything they need is crucial.  So let us help you with all your staff essentials.
Below, we have a quick look at the various products that you might be interested in and how you can achieve all this without compromising your environmental policies.  Do get in touch for more information about how we can take the stress out creating your staff kits.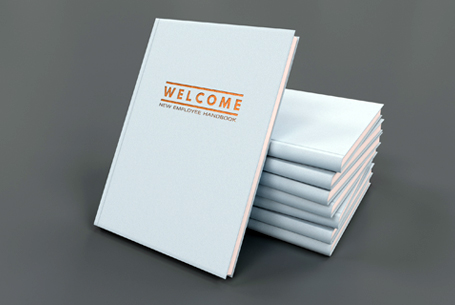 Employee Welcome Pack Folders
For new staff these can ease the transition into a new role and team significantly.  These packs can include all the vital company and job information that the new recruit can digest at their own pace.  They also enable clarity on procedures to minimise misunderstandings.  These employee onboarding packs can be delivered in any manner to suit your company but most frequently we produce branded folders for this purpose.  These can then be filled with a wealth of printed material, all of which can be produced in an environmentally friendly manner.
For conferences, meetings, training or personal development booklets can be invaluable, enabling information to be presented in an organised and coherent manner.  At Woodblock we are able to produce wiro bound, perfect bound or stapled eco booklets depending on the nature of the document.
Business Stationery Packs
Ensure that your staff can present a professional appearance in all their dealings with clients.  Arm them with letterheads, notecards, business cards and compliment slips to provide a consistent and on brand approach.  We offer a comprehensive range of environmentally friendly stocks for all your business stationery needs.
Creating branded kits for your employees can foster a real sense of belonging and unity, whether your teams are working from home or on site.  This clearly has benefits for both staff morale, retention and productivity and ultimately for your customers satisfaction.   And what better way to welcome new staff when onboarding than by showering them with goodies?  Shown below are a few ideas of key products to get your staff all singing off the same hymn sheet.  We can provide eco solutions for our branded merchandise options.
Branded Staff
Notebooks & Pads
Branded notebooks are a great way to enable maximum efficiency and organisation.  They present a smart, professional appearance, reinforcing your brand to both staff and customers when seen out and about and at meetings.  Fortifying your employees with notebooks can also do wonders for their wellbeing.  Allowing musings and doodles to flow and the mind to clear.  
Branded Pens
& Writing Instruments
If the hand that holds the pen writes history then it's worth mobilizing your staff with jolly good ones.  We offer a fantastic selection of all sorts of pens and pencils, including a quill-quiveringly good collection of eco friendly pens.  All of our writing tools can be customised with your logo or personalised with a name for endless marketing opportunities.  A key item in all staff essentials packs. 
Branded Staff
Clothing & Caps
Whether desirable or essential, branded clothing can unify your teams, making them more visible to your customers and therefore better able to meet their needs.  Clothing, from aprons to T'shirts, jackets to caps creates a smart, engaging staff alliance.  This attire can be a stylish way of promoting your brand as well as functional for your staff or contratced staff for one off events. 
Whether you are a finance company who need calculators, a building firm who need tape measures or a restaurant who needs corkscrews we can brand your workforce.  These can bring your teams together and squeeze out every opportunity for brand awareness.
D E S I G N
If you are keen to armour your staff with all the kit for success but need help with designs layouts, reach out to us and we'd be delighted to advise, guide and create for you.
Q U O T E S
We all know the value and importance of amazing staff and of looking after those gems. So if you are looking for material to support employee onboarding, personal development, wellbeing or the best in staff accoutrements then do get in touch.