FA VO 100%
Recycled Notebooks
Lovingly crafted FA VO 100% recycled notebooks, made of environmental friendly materials. FA VO is a brand of high quality notebooks with a concept that focuses essentially on the use of environmentally sustainable materials throughout the entire creative process.
The inner pages are made from a smooth high quality 100gsm recycled paper, with a soft neutral tone, perfect for all types of writing or sketching. The cover is made from a high quality 350gsm recycled sheet, allowing the notebook to be lighter, durable and flexible.  When purchasing FA VO 100% recycled notebooks you can rest assured you are contributing towards a better Environment and Planet, so you can look good and feel great!  To read more about FA VO please skip through to our blog.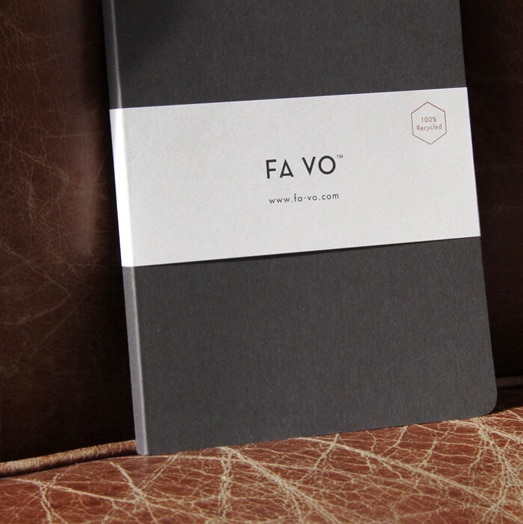 140 Pages
Eco-Friendly
100% Recycled Fibres
Rounded Corners
Opens Flat
90gsm Recycled Pages
350gsm Recycled Cover
Perfect Bound
£7.50
This is our current price per notebook based on 100 units and inclusive of customisation.
The minimum quantity is 25 units and the price per notebook reduces the larger the amount you order.
FREE DELIVERY ON ALL UK ORDERS
SELECT YOUR REQUIREMENTS BELOW & WE'LL EMAIL YOU A QUOTE TODAY
A5 Medium 14.5cm x 20.5cm
5-10 Working Days
We aim to dispatch all standard orders within this timeframe, depending on the quantity required.
IF YOU HAVE A RUSH ORDER / TIGHT DEADLINE PLEASE CALL TO DISCUSS THE OPTIONS AND WE WILL DO OUR UTMOST TO HELP
100% Recycled Natural
The colour of our Lavender Notebook is natural and achieved by using 100% recycled fibres that include upcycled by-products, such as, lavender saved from landfill and other eco-friendly materials.